HumaStar 100/200 Awarded with The International iF Product Design Award 2014
HumaStar 100/200 Awarded with The International iF Product Design Award 2014
The design of the new HUMAN random access analyzer HumaStar 100/200 convinced a jury of international design experts and was awarded with the iF product design award 2014.
3,249 entries in 17 categories were evaluated in consideration of criteria like design quality, workmanship, choice of materials, level of innovation, environmental compatibility, functionality, ergonomics, visualization of use, safety, brand equity/branding as well as the aspects of universal design.
The HumaStar 100/200 product design convinced the jury due to its excellent user-friendly handling. Further, the experts acknowledged "the analyzer's clean lines, beveled edges and contrasting trim that underscore its precision and quality".
With the development of the HumaStar 100/200 HUMAN broke new grounds. For the first time, an instrument cover was developed in collaboration with a renowned design agency. With this step HUMAN affirms its distinctiveness and uniqueness in the market of IVD and will continue to do so with more products to come up!
The iF design awards are among the largest and most important international design awards: the iF label is a seal of quality known all over the world.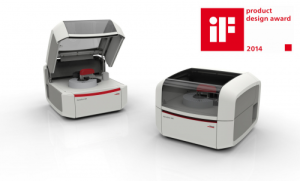 INDONESIAN
HumaStar 100/200 Dianugerahi Penghargaan Dari The International iF Product Design Award 2014
Desain baru instrumen HUMAN HumaStar 100/200 telah meyakinkan juri ahli desain internasional dan dianugerahi penghargaan Desain Produk iF 2014.
Ada 3.249 produk dalam 17 kategori yang dievaluasi dengan mempertimbangkan kriteria seperti kualitas desain, pengerjaan, pilihan bahan, tingkat inovasi, kompatibilitas lingkungan, fungsionalitas, ergonomi, visualisasi penggunaan, keamanan, ekuitas merek/merek serta aspek desain universal.
Desain produk HumaStar 100/200 meyakinkan juri karena penanganan yang user-friendly yang sangat baik. Lebih lanjut, para ahli mengakui "garis, lekukan, dan garis kontras menekankan pada presisi dan kualitas".
HUMAN memecahkan rekor baru dengan perkembangan HumaStar 100/200 ini. Karena untuk pertama kalinya, sebuah cover instrumen dikembangkan bekerja sama dengan biro desain ternama. Dengan langkah ini HUMAN menegaskan kekhasan dan keunikan di pasar IVD dan akan terus melakukannya dengan lebih banyak produk untuk datang!
Penghargaan desain iF adalah salah satu penghargaan desain internasional terbesar dan paling penting: label iF adalah seal of quality yang dikenal di seluruh dunia.